"Unless you Test, It's Just a Guess!" Focus on Forage Testing
Forage quality is one of the most influential factors in livestock production.  Providing good quality, well managed forage can decrease reliance on stored feeds, decrease the need for added supplementation, and increase animal performance.  Whether for hay or grazing, the only way to determine the quality of your forage is by implementing a forage test!
Forage testing is one of the most underutilized tools available to producers in the Southeast.  There are many justifications given for not testing our forage, but the fact remains that you cannot touch, smell, taste, or see forage quality.  Unless you test, it's just a guess!
In recent years forage testing has been even more important.  Extreme weather events such as abundant rainfall and prolonged cold periods  have forced producers to delay harvest, resulting in producing and feeding lower quality hay.  Without the utilization of forage testing there is no way of knowing what the nutritive value of a "lot" of hay is pre-feeding, thus no way of determining whether or not the forage meets the nutritional needs of your livestock.
For more information on Forage Testing, interpreting forage analyses, sampling methods, test procedures, or assistance in sampling your forage contact: your County Extension Coordinator, Regional Extension Agent, or soil/forage testing lab.
For information on how to properly collect a forage sample check out:
ANR – 2224 Collecting Forage Samples for Laboratory Analysis – http://www.aces.edu/go/523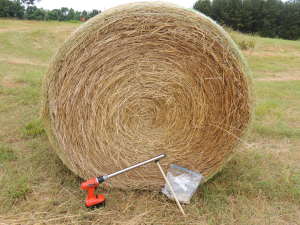 Remember: Unless You Test, It's Just a Guess!
Please follow and like us: