Do Your Homework before Negotiating Pasture Leases, Worker Wages, or Custom Farm Work
Some of the most challenging conversations, in almost any relationship, are the ones about money.  This is certainly true as land owners and ranchers renew pasture leases, managers and workers negotiate wages, or agreements are made for custom farm work. It can be pretty challenging to determine what is a fair price for both parties.  Knowing the local, "going rate" can be challenging, especially if this not something you do routinely.  There are a few resources available to use as guides to at least get these conversations started off right with unbiased data that can really ease the initial tension.
Average Pasture Rental Rates
The USDA's National Agricultural Statistic Service (NASS) surveys farmers to compile average expenses for farms in a number of different categories.  One that is very helpful, whether you are the rancher renting the land or the landowner, is knowing the average pasture rental rate for your county or region of the state.  Because the SE Cattle Advisor is a multi-state project, there are too many counties to share all of the individual data, but the following are figures from the main regions of the four states: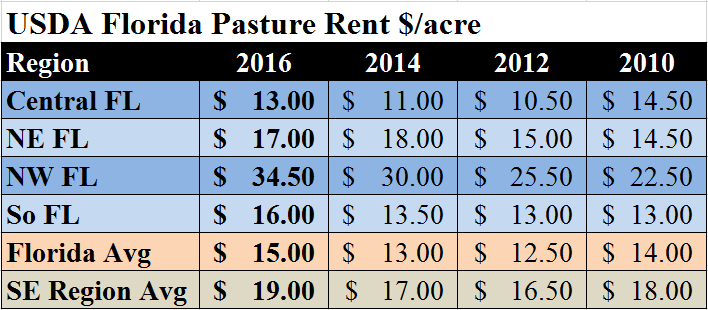 In Florida, average pasture rental rates are influenced by the types of leases available.  Large land tracts, with native range, or marginally improved pastures bring the average down.  Many of these tracts are owned by government agencies, so they also include some level of management restriction.  The range of rental rates is fairly large from a low of only $13/acre in Central Florida to a high of $34.50 in the Panhandle, but the average for the whole state was $15/acre in 2016.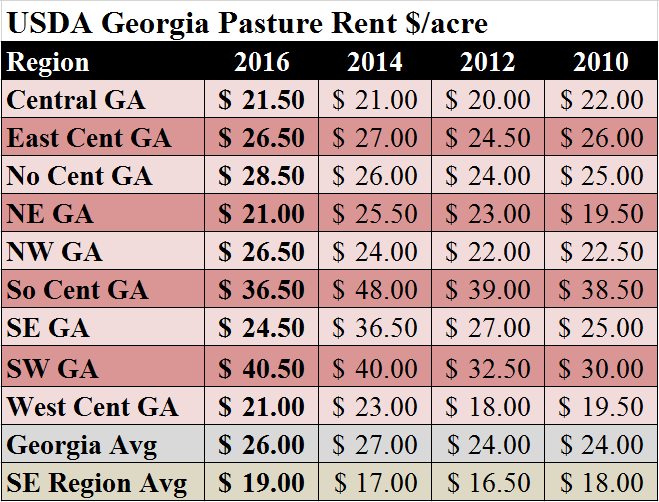 Georgia has nine general regions.  You would expect pasture rental rates to be the highest around metropolitan areas, but it was actually highest, $40.50/acre, in Southwest Georgia where there is major competition for cropland rental.  The lowest region was West Central Georgia at $21/acre, with an overall state average of $26/acre in 2016.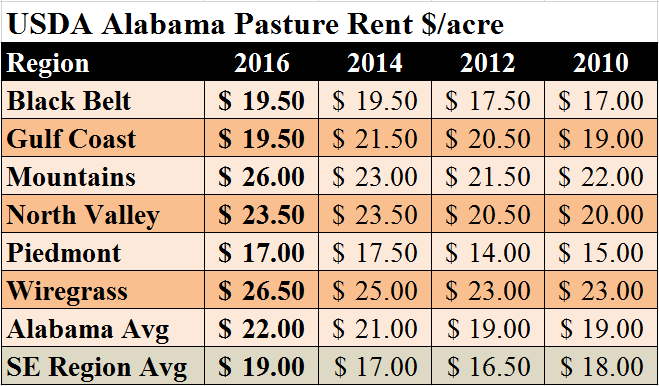 Alabama had the highest average rental rate in the Wiregrass region, $26.50, where demand for rental crop land influences the rate.  The lowest rate was in the Piedmont region, $17/acre, and the state average was $22/acre for the whole state.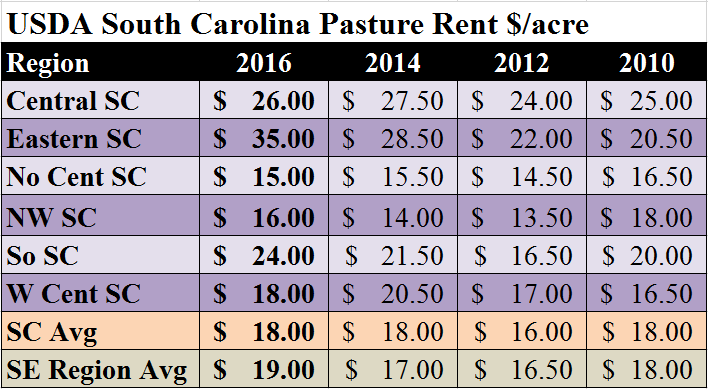 South Carolina had a wide variation of pasture rental rates.  Along the coast the average was $35/acre, while closer to the North Carolina border the average was much lower at only $15/acre.  For the whole state the average was $18/acre in 2016.
There are a lot of factors that influence pasture rental rates:  size of the track, quality of the forages, overall carrying capacity, fences and handling facilities, hay fields, accessibility and location, etc.  The average rates NASS provides should only be used as a guide for negotiation.  NASS does have data down to the county level. If you want to get more specific data for your area, use the following link:  http://quickstats.nass.usda.gov/.  Once on the site, there are a series of boxes with different categories of information.  Click on the following categories in the boxes: survey, economics, expenses, rent-cash-pastureland, county, the state of interest, and the county of interest.  Once you have all of these selected then select the "Get Data" button.  If there is no data for your individual county, then you can use the Agricultural District, as was used for the charts above, to get an average for your local region of your state.
Farm Worker Wages
Another challenging negotiation for ranch owners and managers is determining fair wages for farm workers.  The goal of every manager is to keep expenses as low as possible, but good workers are hard to find and keep.  Certainly farm jobs vary with the unique skill sets required, but it is helpful to know the average wage rates to share with workers to show them where they stand.
NASS does not offer real specific information for farm worker wage rates.  In fact, they don't even report state averages, but instead provide figures for different regions of the country.  In the Southeast, only Florida has state averages, while Alabama, Georgia, and South Carolina are reported as the Southeast Region.  Even so, it is helpful to know the average wage rates.  The average for all farm workers in 2016 was $11/hour, with slightly higher wages for workers on livestock operations.  In Florida, where a little more data was provided, the rates were almost $2/hour higher for animal workers than crop workers.
The Bureau of Labor Statistics (BLS) also provides data on agricultural workers.  The BLS survey data from 2016 has not been published yet (March 2017).  Even though the data from their May 2015 summary is a little older than the most recent NASS report, the BLS report offers not only average wages, but also provides a percentile breakdown that is very helpful.  The BLS report also provides a broader range of worker categories, and even includes farm and ranch managers.  The following chart is national data.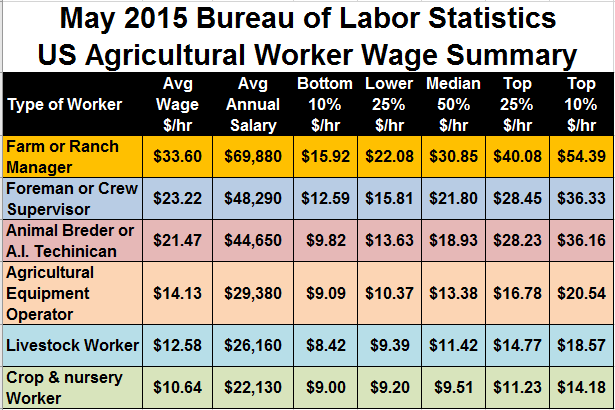 From the BLS May 2015 data, you can see the variation in wages from the different types of workers.  While every operation and worker position is unique, knowing the national range of wages for different types of workers is helpful.  If you want to look at the BLS data for your specific state, go to:  https://www.bls.gov/oes/current/oessrcst.htm, select the state of interest, and then go to the categories of farm workers: 45-000 for agricultural workers, or 11-9013 for farm managers.
Custom or Contract Farm Work
It is not economically feasible to purchase every type of machinery needed for a farm.  At some point the need arises to contract with other local farms, or ag service providers for custom farm work.  This can also be a great source of alternative income for a farm to contract with another landowner for custom work.  Whether you are hiring or bidding out the work, it is helpful to know the "going rate" for different types of work.  Whether it is disking, planting, hay harvest, or fence construction, there is a handy guide published annually by Iowa State Extension.  Unfortunately, there is not a similar survey in the Southeast, but even so the Iowa data can help get in the right ballpark from an unbiased source for negotiations.  The following is a sample of data available from this survey summary.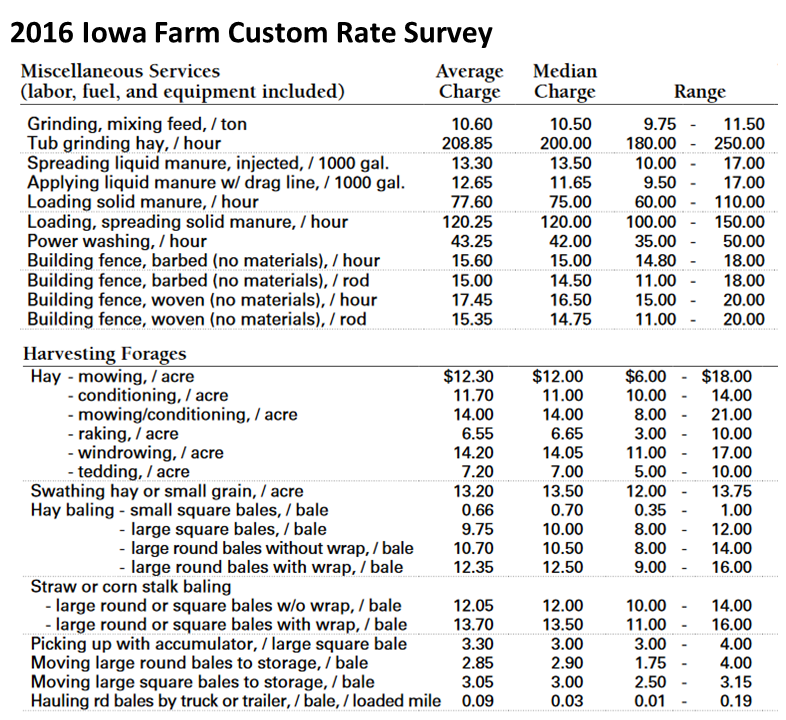 Please follow and like us: